Before starting to assemble a crosstab, it is important to consider which attributes should be "foldable". This will decide the order of data fields in the column and rows bar. In the crosstab below, a list of application functions (these are BlueDolphin objects) is displayed. Each function is covered by a number of applications. If you unfold the Application column, the application names are displayed. This report allows you to pinpoint the functional overlap between applications in an instant. This means you can initiate projects to rationalize the application landscape.
1. An empty crosstab as displayed below contains no data fields in the columns and rows bar. In the middle of the screen, you can find the minimum field requirements for generating the visualization according to your needs.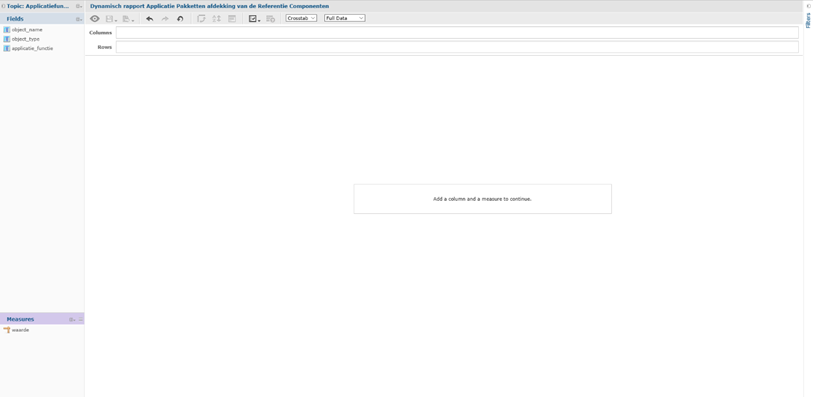 A crosstab requires at least one data field from the Fields category in the column bar and one data field from the Measures category in the column or rows bar. Any available fields or measures are displayed on the left side of the screen.
2. Drag the object_type field to the columns bar, and the waarde measure in the rows bar. A basic crosstab is now generated, because we have met the minimum requirements. Each column in the crosstab now displays an object type. This example dataset contains only one object type.
3. The crosstab doesn't contain a lot of information so far. We can enrich it by adding the field applicatie_functie to the rows bar. The crosstab now has a new blue column which displays an application function in each row. Now for each application function a value is displayed.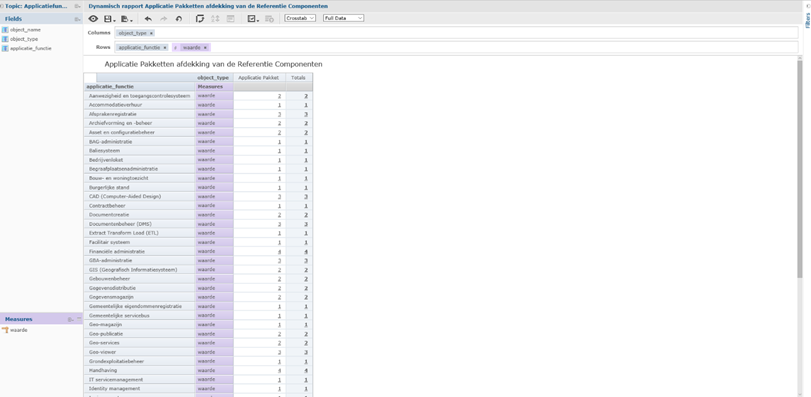 4. To finish this crosstab, we can drag the last unused field object_name in the columns bar. We have now added an extra layer to the columns bar, which enables the fold option to switch between object type and object name.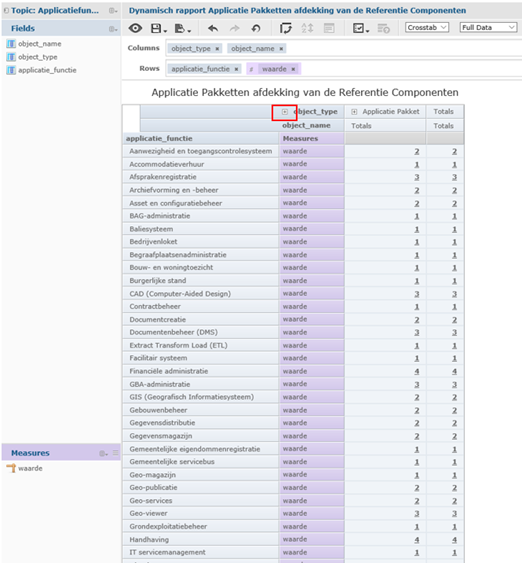 The crosstab is now complete, but it still shows sample data. To display the full range of data, select Full Data in the dropdown menu on the upper-right. The sample data option allows you to configure your report easily without moving around large amounts of data.