You can easily share, publish, download, and save views by going to Views and the three-dot menu in the upper-right corner. By clicking on the three-dot menu, the following dropdown menu opens: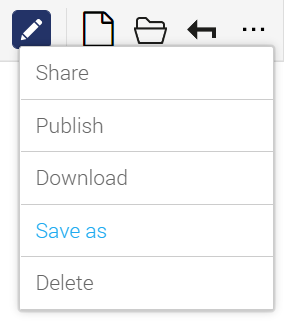 Use the option Save as to make a copy of the current view. Upon clicking on it, you will see the screen below:

Type in the name of the view in the box and click OK to save it.
'Save as' functionality has multiple purposes. When you open a view that you don't own or that is not shared with you, you are not allowed to edit it. To be able to edit, you have to save a copy of the view first. By saving it with a different title, you create your own view, which means that you won't be making changes to the original view. This can be useful, for example, when the original view functions as a template with a base drawing from where you have to start.
It can also be the case that you want to create different versions of the same view. For example, you want to make a view of the current state and a view of the desired or future state. By saving the current state view first, and then saving a copy for the future state, you only have to adjust the future state view to the desired situation instead of creating a completely new view from scratch.
In addition, you may use the marketplace with different colleagues to collect views. When not everybody has the rights to put these views in the correct place, only one person is responsible for this. He or she saves the views and puts them in the right place.