You can add objects to the screen into a usable swimlane by using drag and drop (see below):


After you have added an object and selected it, several action buttons will appear, as in the screenshot below: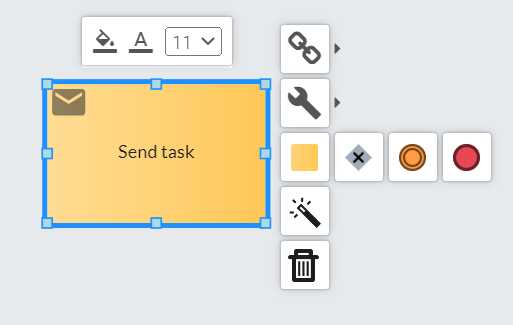 The table below explains each BPMN object action button:
Action
Explanation
With this button you can modify object's background color
With these buttons you can modify text color and size

With this button you can connect a BPMN task with an ArchiMate object from the repository. You can use it to:

show which ArchiMate business process is used in a BPMN call activity.
show which application is used by a BPMN task

With this button you can:

add markers to a BPMN element
change the type of a BPMN element

With this button you can quickly draw relationships between new BPMN objects. Pick the object type for the new object. BlueDolphin will add an object of that type and draw a relationship between the new object and the current BPMN object.

Relationship tool. With this tool you can draw a relationship between two objects that are already on the view.

Delete an element. With this action you will delete the selected element.
If you right-click a task in a BPMN view, the following option will appear:
| | |
| --- | --- |
| Action | Explanation |
| Open object | If a BPMN task has a connection with an ArchiMate object, you can open the object by clicking Open object. You will then leave the view. |