With the shortcuts available in BlueDolphin, editing views can be easier, faster, and more efficient for more experienced users.


Context menu next to an object
By clicking an object, this menu will appear. By clicking the object again, it will disappear. You can also use the Escape key for this.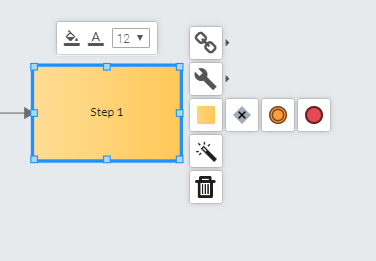 Action
Windows
macOS

Add a new object to the location in question

Double click on the canvas

Double click on the canvas

Select multiple objects in a BPMN view without moving the swimlanes

Ctrl + Alt + drag

Cmd + Opt + drag

Move only the canvas in a BPMN view (and not swimlanes)

Alt + Shift + drag

Move an object to a group without putting it into a group-layer (remains a single object)

Alt + drag

Opt + drag

Copy an object (only ArchiMate)

Copy an image

Ctrl + C

Cmd + C

Paste an object (only ArchiMate)

Paste an image

Tip: You can copy objects from a read-only Architecture view and paste them to an editable Architecture view.

In the edit mode, you can copy images from a view and paste them to any other view.

Ctrl + V

Cmd + V

Undo step

Note: The "undo" option is not applicable for the deletion of elements on a BPMN view.

Ctrl + Z

Cmd + Z

Delete from the canvas

Delete

Backspace

Group objects

(only ArchiMate)

Ctrl + G

Cmd + G

Flip a free shape horizontally

Shift + H

Shift + H

Flip a free shape vertically

Shift + V

Shift + V

Select all

Ctrl + A

Cmd + A

Deselect all

Esc

Esc

Scroll to the selected object

Spacebar

Spacebar

Zoom in and out

+ -

+ -

Reset zoom

Ctrl + 0

Cmd + 0

Zoom to fit

Shift + Z

Ungroup selection

Ctrl + Shift + Z

Edit text

F2

Ctrl + scroll

Cmd + scroll

Ctrl + drag/long press the left mouse button

Cmd + drag/long press the left mouse button

(Fixed) scroll right to left/left to right

Shift + scroll

Ctrl + Click

Cmd + Click

Open a view in a new window

Shift + Click

Cmd + N